School Newsletter - 23rd Feb 2018
School Newsletter - 23rd Feb 2018
27 February 2018 (by Northern House School (Oxford))
School Parental Newsletter for 23rd February 2018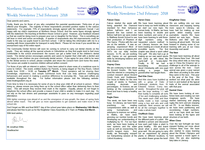 Dear parents and carers,
Firstly, thank you for those of you who completed the parental questionnaire. Thirty-nine of you offered your thoughts. The majority of these respondents provided positive replies to the various statements. For example, 73% of respondents strongly agreed with the statement Overall, I am happy with my child's experience at Northern House School. And the same figure strongly agreed with the statement The teaching at Northern House School is good. However, your feedback showed us that we could be doing more to prepare your son or daughter for the future. This is something we will bear in mind and action accordingly. A quarter of respondents also felt improvements could be made to the way our pupils travel to and from school. I will be taking this information with me to a meeting with those responsible for transport in early March. Please let me know if you would like an anonymised copy of the entire report.
The Community Dental Service will soon be coming to school to carry out dental checks on the pupils. They are visiting all the special schools in Oxfordshire as they find pupils tend to feel more comfortable in the school environment: the nurses can get a better look at the children's dental needs. The dental service encourages parents and carers to register their child with a dentist and are happy to see children via your community dental service. If you agree for your child to be seen by the dental service in school, please complete and return the consent form sent home this week.The nurses are unable to examine children without written consent.
For those of you with an interest in autism, I have been asked to share news of a roadshow soon to come to Oxford. The event, entitled Autism for Parents, is being staged at The Key Room, Oxford Castle from 10:00 – 14:00, on Tuesday 27th March. Three speakers will be sharing their knowledge, experience, and simple nutritional tools that can help address challenging behaviours and assist in making a positive difference to everyday life. Teas and coffees are available throughout the day. For further information please visit the following website: www.treatingautisim.org.uk
From time to time it is necessary for some of you to drop your child off at school in person. When doing so, please ensure you bring them up to the school office rather than delivering them to their class. This will ensure they receive their mark in the register. Equally, please do not forget to telephone the school office and provide a reason if your child is unable to make it in each day. Do not rely on the taxi drivers and passenger assistants to pass on any messages regarding pupil attendance.
With lighter evenings now ahead of us and the emergence of new growth, the dawn of spring feels almost within reach. This will give us more opportunities to get outdoors and make more of the school site.
Don't forget our fifth and final INSET day of the school year takes place on Wednesday 14th March, and please feel free to join us for the Kingfisher Class Assembly at 9.15am on Friday 2nd March.
With best wishes,
Mr Jonathan Willis
Headteacher