School Newsletter - 2nd Feb.2018
School Newsletter - 2nd Feb.2018
2 February 2018 (by Northern House School (Oxford))
School Parental Newsletter for 2nd February 2018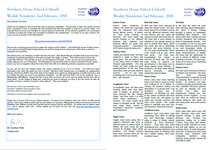 Dear parents and carers,
Thank you for taking the time to read this and my previous newsletters. We are keen to learn how useful you find them, so please be sure to complete the short questionnaire that was emailed or sent out to you this week. It is important that we survey your thoughts on various aspects of school life, and we would be grateful if you could spare 5 minutes to answer the simple set of questions included in the questionnaire. For those of you who missed it, the survey can be accessed via the following link:
https://www.surveymonkey.co.uk/r/DVRWWVN
We are also conducting pupil surveys to gather the opinions of the children. I will publish the results of both surveys in due course and look forward to learning how we could be doing more to ensure your child's time in school is enjoyable and rewarding.
We welcome two new members of staff to the team this term. Miss Nicole Mooney and Miss Kate Green have been employed as teaching assistants to work with our Upper Key Stage 2 classes. They will be joined by three new pupils after half-term. This will take us up to our full capacity of 86 pupils. In fact, we have an ever-growing list of pupils waiting to join us in September. This illustrates the demand that exists for places at Northern House: please ensure your son or daughter makes the most of their time with us by attending school as regularly as possible.
As you can see from the updates below, the school continues to be a hive of activity. The staff have been
particularly busy when the pupils are not in school. Monday's staff meeting saw us revalidate our safeguarding training, and the two INSET days at the start of term helped us to extend our understanding of childhood trauma, and to consider the best use of our many teaching assistants. Our fifth and final INSET day of the academic year is Wednesday 14th March. Please add this to your diary as school will not be open to pupils and the taxis will be stood down. On the subject of dates and, continuing our push to welcome as many of you into school as often as possible, we have a number of events to share with you. They are as follows:
9th February: Kestrel Class Assembly 9.15am
2nd March: Kingfisher Class Assembly 9.15am
9th March coffee morning 9.45am
16th March: The Nest and Chaffinch Class Assembly 9.15am
Please join us if your child is in any of these classes. For those of you looking to enrol your child in an after-school activity, I have been asked to share with you the details of a company offering dance classes and soccer schools at Wheatley Park, Matthew Arnold and Cherwell schools during February and March. All classes are for children aged 5-11, and 6 classes costs £30. Further details can be found via this web link:
www.next-generation-soccerschools.co.uk
With best wishes,
Mr Jonathan Willis
Headteacher