School Newsletter - 25th Dec 2018
School Newsletter - 25th Dec 2018
25 January 2018 (by Northern House School (Oxford))
School Parental Newsletter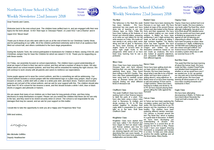 Dear Parents and Carers,
Welcome back to the new school year. The children have settled back in, and are engaged with their new topics for the term ahead. In KS1 their topic is 'Dinosaur Planet', in Lower KS2 'I am a Warrior' and in Upper KS2 'Blood Heart'.
Thank you to those of you who were able to join us at the end of term for our Christmas Variety Show, and for participating in our raffle. All of the children performed extremely well in front of an audience that filled our school hall, and others contributed to the back stage preparations.
During the Autumn Term, the school participated in fundraisers for Children In Need, raising £564.00, and
Christmas Jumper Day for Save the Children for which we raised £116.50. Thank you for supporting us with these events.
On Friday, our assembly focused on school expectations. The children have a good understanding of what we expect of them in their taxi and in school, and they all had a number of ideas to share. We also talked about our school reward systems, and how they will be rewarded for making the right choices. We will continue to work closely with all parents and carers to reinforce our expectations.
Some pupils appear not to wear the correct uniform, and this is something we will be addressing. Our school uniform includes a school jumper with the embroidered logo or a plain navy jumper, black or grey trousers or skirts, a white shirt with a collar or a white polo shirt, and black shoes. Trainers and hooded jumpers are not part of the school uniform, and we ask for your support with this. The children should also have their PE kit in school for two lessons a week, and this should include a white t-shirt, blue or black shorts or joggers and plimsolls or trainers.
We are aware that many of our children are in their taxis for long periods of time, and they bring electronics to keep themselves occupied. Please can you remind the children that these are for use only in the taxi, and they need to be stored securely when in school. The school is not responsible for any damages that may be caused, and we ask for your support on this matter.
I would like to take the opportunity to wish you all a Happy and Prosperous New Year.
With best wishes,
Mrs Michelle Griffiths
Deputy Headteacher