School Newsletter - 08th Dec.2018
School Newsletter - 08th Dec.2018
14 December 2017 (by Northern House School (Oxford))
School Parental Newsletter for 08th December, 2017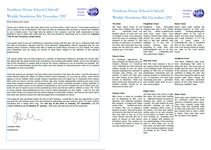 Dear Parents and Carers,
Thank you to those of you who were able to join us at this week's Carol Concert. It was heart-warming to see so many of you in attendance. We hope you had an enjoyable time and plan to extend this invitation to you in future years. Your high turn-out added to the occasion, and the staff commented on how pleasant it was to share this event with you. We look forward to welcoming you to school on Tuesday 12th for the Christmas Variety Show.
I am aware some of you are continuing to experience issues with the taxis. We are in continuing talks with
the staff at Education Transport and the Local Authority Safeguarding Officers regarding how we can address these concerns. Please bear with us whilst we tackle these concerns on your behalf. We share your frustrations and are doing our utmost to bring these matters to the attention of the relevant
professionals.
The above matter has not been helped by a number of unforeseen absences amongst the school staff. We appreciate the pupils benefit from consistency and working with familiar adults, but we are needing to call on the assistance of supply staff to ensure the school continues to run as smoothly as possible. We ask for your understanding around this matter and look forward to welcoming back some of our absent colleagues as soon as possible.
Given the amount of coverage YouTube videos have received in the news this week, I took the decision to
make internet safety the subject of today's whole-school assembly. As you may be aware, some videos appear to be for children (they include cartoon characters such as Peppa Pig, or characters from Disney films such as Frozen), but the content of these clips also include inappropriate material and some users have been leaving comments of a worrying nature. Such press coverage provides a timely reminder to ensure your child's access to the internet is supervised or your access controls are set to block such material. Be sure to report to your service provider any items you feel are unfit for children to view. The Think U Know website (www.thinkuknow.co.uk) is full of useful information on this matter – both for you and your child. Please be assured that the school employs a robust filter system, and that we are quick report and block any internet content the staff and pupils feel is unsuitable for school.
This being the last newsletter before the end of term holidays, I would like to take the opportunity to wish
you well over the holiday period. We look forward to welcoming you into school in 2018. Do have a Merry Christmas and a Happy New Year. The last day of this term is Tuesday 19th December, and the children return to us on Monday 8th January. Both days will start and end at the usual time
Best Wishes
Jonathan Willis
Headteacher
(Click the image to view the newsletter in full, or follow the link to view/download the copy)