School Newsletter for 27th Nov. 2017
School Newsletter for 27th Nov. 2017
27 November 2017 (by Northern House School (Oxford))
School Parental Newsletter for Monday 27th November, 2017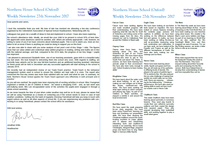 Dear parents and carers,
I trust this newsletter finds you well. My time of late has involved me attending a two-day conference organised by the Oxfordshire Association of Special School Headteachers. Networking with my colleagues has given me a wealth of ideas to trial and implement in school. I have also been exploring the school's attendance data. Ideally, we would like your child to be present in school 95% of term time. We appreciate some absences cannot be avoided, and others are entirely appropriate. I will, however, be writing to some of you if we have concerns about individual pupils. This is not to alarm you, more an invitation to let us know if there is anything we could be doing to support you on this front.
I am also now able to share with you some analysis of last year's end of Key Stage 1 data. The figures show that our value added and contextual value-added progress in reading, writing and maths are in line with the national average, and that, compared to the 2016 data, the progress of our Key Stage 1 pupils has improved. 
I am pleased to announced Elizabeth Hiner, one of our teaching assistants, gave birth to a beautiful baby boy last week. We look forward to welcoming them into school very soon. With regards to staffing, we currently have adverts out for two new full-time teachers and an additional teaching assistant. Interviews for these posts will be held in December and any successful applicants will start working in the school in January 2018.
We recently had an independent review of our Team-Teach practice. Team-Teach is the behaviour management system used in school to ensure the children are kept safe if in crisis. The expert who conducted the four-day review was more than satisfied with our work and what he saw. In summary, he feels 'Northern House School applies the Team-Teach approach very effectively in both principle and in practice.'
As you will see overleaf, the pupils have been enjoying lots of exciting activities in school. Miss Youngman organised a ramble in aid of Children in Need - we raised a whopping £540 - and, as last week was anti-bullying week, Mrs Lee encapsulated some of the activities the pupils were engaged in through a whole-school assembly.
As we move towards the time of year when colder weather may well be on its way, please be aware that we will be using Parentmail as a means of contacting you if the school needs to close in case of bad weather conditions. Getting into the habit of regularly checking Parentmail will help you keep in touch with urgent notices as well as all other aspects of school life. If you are experiencing any problems with connecting to or using Parentmail, please contact the school office for assistance.
With best wishes,

Jonathan Willis
Headteacher
(Click the image to view the newsletter in full, or follow the link to view/download the copy)