School Newsletter for 22nd Sept 2017
School Newsletter for 22nd Sept 2017
26 September 2017 (by Northern House School (Oxford))
Parental Newsletter for 22nd Sept 2017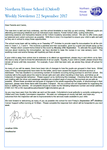 Dear Parents and Carers,
The new term is well and truly underway, and the school timetable is now fully up and running. Different pupils are attending and enjoying initiatives such as individual music lessons, Forest School visits, cycling instruction, swimming sessions and trampoline lessons at the Oxford Academy secondary school. We aim to offer every pupil as balanced and varied curriculum as possible. With this in mind, it is important to ensure your child is safe and well so they are in school to enjoy these opportunities.
The school nurse team will be visiting us on Tuesday 17th October to provide nasal flu immunisation for all the chil-dren in Years 1, 2, 3 and 4. This involves a painless and free vaccination, given by a quick and simple spray up the nose. Please return consent forms linked to this event by Monday 25th September. To alleviate the pupils feeling nervous about receiving the immunisation, we have decided to base the nurses in our new sensory room. The soothing music and aroma therapy will hopefully put them at ease.
If your child is away from school due to sickness or to attend an appointment, please ring in and inform us by 9am. We have a duty of care to know the whereabouts of all our pupils. Equally, if your child is unwell, please ensure they remain at home until fully recovered. For example, if your child has been sick, we advise they remain off school for 48 hours.
As many of you will be aware, there have been lots of changes to how the pupils are grouped in their taxis. Whilst many of these rearrangements have been for the better, some have caused the pupils to become anxious or distressed. This has resulted in a concerning number of incidents occurring during journeys to and from school. We routinely talk to the pupils about the need to remain safe and calm when travelling in their taxis, and follow up all instances of inappropriate behaviour. Please support us by reinforcing this message. Checking their taxi diary daily, and chatting with the driver and passenger assistant are excellent ways of ensuring the journeys are as safe as possible. Where these anxieties are because of changes to the adults supporting the pupils, or shortcomings in their approach, please raise these items with Education Transport. We as a school are not responsible for organising the taxis or staffing the vehicles. All complaints should be made via the following telephone number and email address: 01865 323 795 or EE-SpecialEducationNeedsITU@Oxfordshire.gov.uk
As you may have seen from the letter we sent out this week, Oxfordshire's local authority is currently undergoing an Ofsted and Care Quality Commission inspection. We wish our colleagues at county hall well, and hope any outcomes from the inspection will see to improvements to the services made available to your child.
We look forward to welcoming as many of you as possible into school for next Friday's (September 29th) McMillan Cancer Support coffee morning at 10.00am. Please complete the response form which will be forwarded to you next week.
Jonathan Willis
Headteacher
For the full newsletter, including Class update, please follow the link: