Week 4
This week, the children completed and wrote up their findings in their "growing" science experiment. You will remember from Week 2 that they planted broad beans to find out what would happen if something a plant needs to grow is taken away. In our experiment some children took away water, some light, and some warmth.
The children were surprised that the beans in the dark and cold grew at all. In fact the beans grew much longer, but very yellow pale and floppy, and didn't look healthy at all compared with the ones who had all the vital ingredients to grow.

The children have loved planting, watering and nurturing their plants. Today they took them home, along with pumpkin and sunflower plants which they have also grown, to put in their family gardens. We are looking forward to hearing how tall they are growing, and how many beans they pick!
The children have enjoyed taking part in a P4C - Philosophy4Children session. In these pictures you will see the children listening carefully to each other. These sessions, amongst many other things, explore children's' ideas, give them confidence to ask questions, speak without the fear of getting things wrong, and value each child's opinion.
In design and technology, the children have designed mini beasts and then made these from our collection of "junk". So much thought and effort went into these. Some children used wire to form wings and then covered them with tissue. Others formed heads from polystyrene, so that antennae and stings could be made and held firmly in them. Fabulous ideas!
This week the children have continued working with their Lego Therapy group. The children are getting really good at negotiating roles, reminding each other of their responsibilities in that role, taking turns, speaking kindly to each other, and listening carefully to instructions. Best of all, they are having fun working together as a group.

Week 3
In maths this week, our groups of children have been working on reading, writing & comparing four-digit number, then placing these on a number line. They have also been using the symbols for greater than and less than. The other two groups have worked with Numicon to support their maths. Some getting to know the shapes and building with them, then attempting challenges: Can you cover the board without any gaps? Some children even managed this independently without using the smaller shapes. The last group have been working on addition, subtraction and equivalence. They've also used number trios to create number sentences.
To finish the week the children made cakes for a our royal wedding party, reading recipes and cooking in groups independently. They were delicious, fit for a Prince and his bride.
In literacy the children have been finding out more about orang-utans and asking each other questions. The children loved being the expert in the hot seat!
This week was the first of our group's part time placement. They were excited at the prospect of spending three days with us at the DEN and two at their home schools, with the DEN staff supporting their transition. So ... we had a lot to pack in!
In topic the children designed a "Bug Hotel". The children looked at mini beast hotels online, and with their newly gained knowledge of mini beast habitats, were able to select the appropriate materials to design and build a hotel which would attract visitors!
Once the designs were complete the children hunted around the school grounds for suitable materials.
The children then amalgamated all their designs and worked together to build a large bug hotel - complete with green roof and a swimming pool. They managed to use all the materials available. Hopefully this will attract the right clientele!

Week 2
Following a beautifully sunny bank holiday weekend, we have had a short but busy week. Firstly, as promised, our finished tissue and wire leaves, now attached to a branch. I'm sure you will agree it is a fabulous piece of collaborative artwork.
Last week in science the children discovered what a plant needs to grow. They designed their own experiment to find out what will happen if one of these factors are taken away. You will see in the photographs the results at the end of week one; broad beans given water, nutrients, sunlight, and warmth, broad beans given nutrients, sunlight and warmth but no water, and finally broad beans with water, nutrients, warmth but kept in the dark. The children are excited to be looking after their plants, and loving watering them each day.
In art the children have been looking at detailed pictures of flowers by famous artists. They loved the painting by Georgia O'Keeffe "Oriental Poppies" and re-produced their version of this using oil pastels. They look amazing!
In literacy this week the children have been writing descriptions of mini beasts using some amazing adjectives. Also during the week the children have started to find out about Orang utans by reading an interactive book to answer a big question "Can you keep an orang utan as a pet?" They used the contents page of the book to help them think of questions to help them. The children worked with talk partners to discuss what they would like to know. They came up with some great questions - What do orang utans eat? Where do they sleep? Are they friendly? Are they fun to play with? You can see them very involved in their discussions.
What an amazing play doh orang utan.
To finish the week, the children made mini beast biscuits, weighing and measuring their own ingredients, mixing, shaping and cutting these and finally decorating them beautifully. They then wrote out their recipe.
"This is the best thing I've ever done." They were certainly very tasty.

Week 1
We have been really excited to welcome our new group of children. Due to home school residential trips and illness, we have not all spent the whole week together, but what a lot we have done with those who have been there
This week has been spent getting to know each other, learning about what everyone likes to do, and getting to know each other by exploring the DEN resources together. As you can see from the happy faces in the photos, we have been having a lot of fun in the process.
To kick off our topic this term, Beasts Bugs and Buds, the children went on a mini-beast hunt around the school grounds with their clip boards, magnifying glasses and identification sheets. They were great detectives and filled in their tally charts with enthusiasm. Back in class the children mapped their findings onto a map of the school, some even using a key.
A lucky find in the undergrowth to help us with our planting!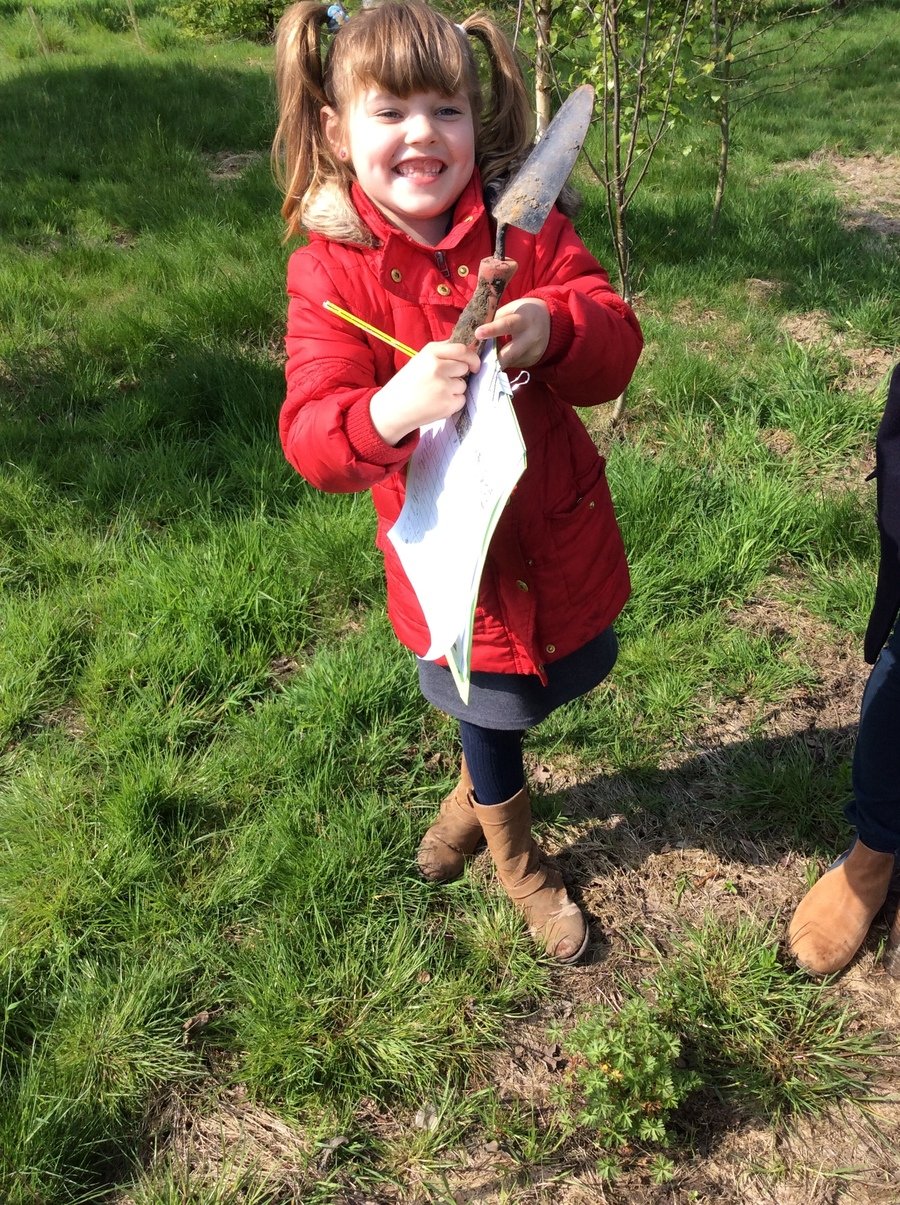 We have been trying out some Big Maths, along with other mini beast themed activities in numeracy.
we began our first session of Lego Therapy. The children work together to build models from instructions. Children work in groups of three taking on the role of architect, builder and supplier. The children work to improve their speaking and listening and social skills in a small safe environment supervised by an adult. They loved it!
We have been getting into routines, eating breakfast together, choosing morning activities, reading, mindfulness colouring, and a new class favourite - Cosmic Kids yoga adventures. Take a look at some of the tricky yoga poses learned.
As with previous groups we have had great fun painting our hands and printing these on the DEN tee pee, to join all the other children's prints who we have had the pleasure of teaching.
The children were very artistic in creating giant leaves made from wire and tissue paper to replicate the ones they found in the grounds. They were amazing at shaping the leaves and creating veins on them with contrasting tissue colours. Many very sticky green fingers. watch out next week for our finished branch.
Finally, to finish the week, the children made butterfly cakes, decorated them, and wrote instructions how to do this. I'm sure you will agree, they looked delicious!