Week 6:
This week was the final week at the DEN for our current group of children. As with our previous groups, we like to say goodbye and celebrate their time with us by holding a tea party for them and their families. Last week they wrote and sent their invitations, and this week they made and decorated Easter biscuits, and made chocolate nests for their party.
What an amazing group of children. We have loved being party of your learning journey, and wish you every success in the future. We will of course be looking forward to visiting you all in your home schools during the Summer term.
In between this, they were hard at work completing lots of egg-citing Easter activities, which today began with an Easter egg hunt.
This week during our therapy sessions, the children have been playing co-operative games which they have really enjoyed. Here you can see them, playing "Mirror Mirror." You can also see some of the fabulous work they have completed during our emotional literacy sessions most of which have been completed as a group. Things that make me sad, angry, scary ghosts, happy memories, what is important to them, and what they hope to look forward to in the future.
Week 5:
Despite more disruption from the cold weather and heavy snow, we have had a busy, but short, week.
Firstly, take a look at our completed hungry caterpillar who has now crawled onto our art display board. I'm sure you will agree he looks amazing with all those delicious foods inside him!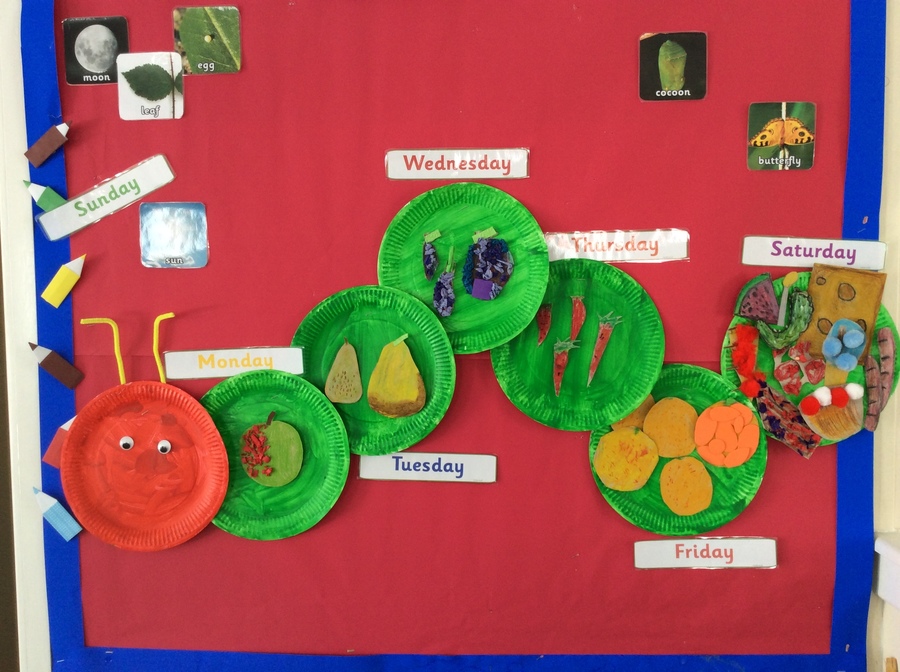 Next week will be the final week of placement for our current group of children. As usual we like to celebrate the end of their time at the DEN with a tea party. The children have been creating invitations in literacy for their families, and recalling and writing sentences about the story of The Very Hungry Caterpillar. This week they have also been concentrating hard on their handwriting techniques.
In maths some children have been working on solving word problems using balance scales and Numicon shapes. All the children have spent time learning about time this week. We have been counting in 5s around the clock, thinking about seconds, minutes and hours. We have been learning to tell the time using analogue clocks to find o'clock and half past the hour, quarter past and quarter to the hour.
In design and technology the children have been designing and creating their own board games. Some children have used food as the subject of their board games, and other children, games to help work off some of the excess of eating too much food! The games have interesting names, Fish Game, The Exercise Game, Dragon's Edge, The Exercise Transformers and Maths.
Week 4:
This week started with a very exciting trip to visit the 4Kingdoms Adventure Park and Family Farm. We Travelled by mini bus to Thatcham, and were greeted by some fabulous friendly guides for the day. We had a tour of the park including the farm area, the lake and the amazing play spaces.
Some of the childrens' favourites were Stormzy, Ed and Ariana the calves, however they weren't quite as tuneful as the real thing! Lottie the lamb was very calm and loved being stroked as did Minnie the mouse and the gorgeous chick who had no name. Some of the children stepped out of their comfort zone and held or touched animals they really were not sure they wanted to.
The children experienced holding some of the animals, and learned lots of information about them including the types of food they eat, and they even got a chance to prepare some food for the alpacas. They found out lots about the lake and the different habitats of the wildlife surrounding it.
In design and technology the children have been creating an enormous caterpillar...look out next week to see the finished creature.
In maths some of our groups of children have been using Numicon to help with learning their times tables, others have been continuing to work with different methods of counting in ones fives and tens, and using the interactive whiteboard to look for resulting patterns on a 100 square.
Our literacy for this week has been based on our trip, and the children have been compiling leaflets to promote the adventure parks and its activities.
The go karts slides and soft play areas were very enjoyable!

Week 3:
This week began by welcoming back Lily who had been poorly last week, and whose birthday we had not celebrated. Lily became a a chef for the first part of the day, and baked her own chocolate cake with Mrs Caudle. She shared some with the other children and took the remainder home. It was absolutely delicious, and all the DEN adults have taken the recipe home to try. Watch out Great British Bake Off!
As usual, lots of phonics work has been happening. Take a look at some of the games the children have been playing.
During maths, our groups have been working hard with recording families of related facts, using vertical algorithms to multiply 3 digit numbers by 1 digit numbers, and lots of practise counting groups of objects and recording them, and then estimating groups of objects and checking by counting and recording.
In literacy this week we have been reading, sequencing and retelling the story of The Very Hungry Caterpillar. The children have remembered well the food the caterpillar ate and sequenced these foods in order.
The highlight of the week has to be our amazing edible hungry caterpillar. In the pictures you can see the children making the cakes, and icing them. What a superb job they made of him. He tasted rather nice too!
In preparation for Mother's Day, the children have written fabulous acrostic poems describing how amazing their mums are. They have also made some beautiful cards ready for Sunday. My favourite lines from the poems by far were "My Mum rocks" and "Eats kisses like a hungry cuddly bear".
Our group are really enjoying their yoga adventures, and as you can see they are getting really good at the positions
Week 2:
In maths this week our groups have been working on adding and subtracting and equivalents using Numicon, working with number trios, and extended work on times tables. They have also been investigating numbers around the classroom and how they are useful to us. The children found clocks, calendars, thermometers, number lines and 100 squares. They have been doing lots of counting - counting forwards and backwards from specific numbers on a number line, choosing their numbers by whether they are a teens number, larger than or smaller than a particular number. We have talked about numbers which are significant to the children such as age numbers, house numbers and telephone numbers. To finish the week they began to find ways of counting objects accurately, checking each other's work and labelling the numbers. Take a look at the pictures to see our mathematicians at work!
Phonics work is an important part of our daily routine, and you will see some of the children enjoying playing phonics games, and helping each other to improve.
The children have enjoyed some Cosmic Kids yoga adventures this week including Popcorn the Dolphin. They are becoming almost expert at some of the moves.
Some of our children have been working within a small group, towards improving their emotional literacy. This week they have been thinking and talking about their strengths. These have been made into a "Strength Cloud" surrounded by a rainbow of amazing things that they are really good at. These include being strong , sporty, musical, brave, cheerful, generous, artistic and intelligent.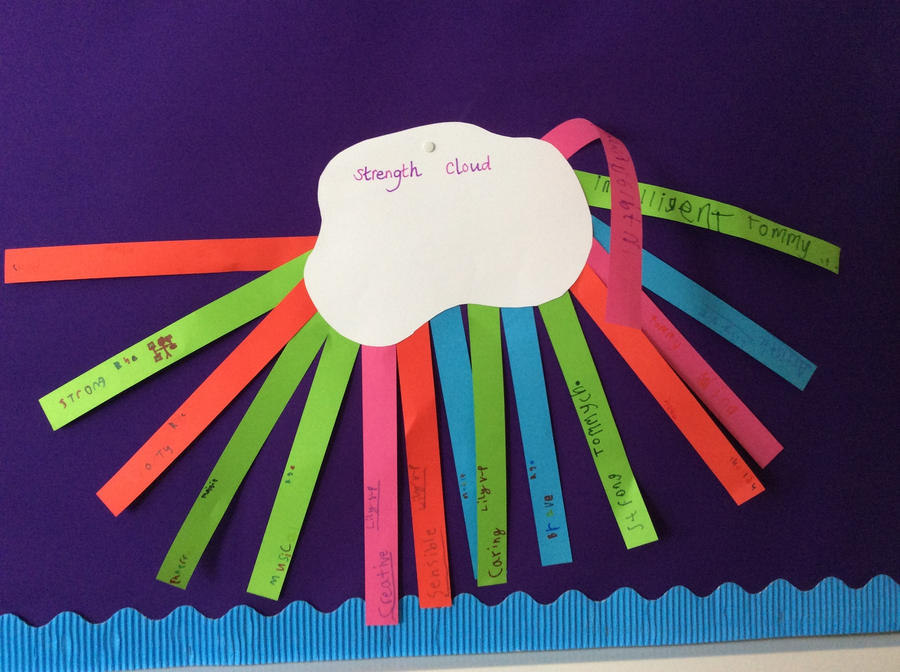 In literacy the children have completed their work around the film "Oliver" and have successfully edited their character descriptions to improve them.
The children have been listening to Roald Dahl's "Revolting Rhymes", and today began to design and write their own revolting recipes with a view to making them!
Finally, the children and adults had great fun learning how to play a new game of Twister cards!

Week 1:
A huge welcome back to all our children after a well earned half term break.
In literacy this week, we all enjoyed listening to each other's news of their activities during the holiday. The children showed how well they listened by making notes about each other's holiday. We continued with our work on the film "Oliver" by brainstorming and writing a character description of him. The children have continued to enjoy their work in their phonics groups, and some have enjoyed matching sentences to pictures.
The children have also enjoyed making fruit muffins, firstly reading and following the the recipe, and then recording the recipe from memory. They tasted very interesting!
Some of the children have been exploring the four basic emotions of happy, sad, scared and angry. See if you can work out the emotions on the faces of the children.
Lots has been covered during maths this week. Some children have been using expanded method column subtraction and counting in 10s, 100s,1000s, 50s and 25s, others have been using Numicon to find number bonds and using the resource as an aid to addition. Another group has been exploring class routines and doing things in order. They have used a class self registration frame following Numicon shapes and explored the days of the week and what makes them special by ordering and adding favourite events including trampolining, beavers and rainbows.
The children managed to complete their Elon Musk rockets, making them amazingly colourful before heading onto the launch pad!